January 26, 2010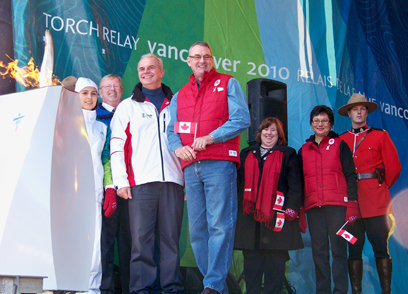 Government of Canada Celebrates the Torch Relay with the Community of Vernon

Vernon, BC - On behalf of the Honourable Gary Lunn, Minister of State (Sport), Colin Mayes, MP for Okanagan-Shuswap, today celebrated the arrival of the Olympic Flame in Vernon, BC as part of the Olympic Torch Relay's journey across our country.

"These are Canada's Games" said MP Mayes.  "The Olympic Torch Relay celebrates Canada's diverse culture and rich history by uniting all Canadians in celebrating our passion for sport, and our pride in our athletes."

Our Government has invested $22.5 million to ensure that communities throughout our country join in the excitement and thrill of the Vancouver 2010 Olympic Torch Relay.

The events and activities organized by each celebration community highlight Canadian pride in our athletes, culture, and country. Canadians from coast to coast to coast have the unique opportunity to take part in an unforgettable Olympic experience and celebrate the talent and dedication of our Canadian athletes as they own the podium in 2010. $15,000 has been provided to the City of Vernon. Each celebration community is different and offers unique opportunities for all Canadians to welcome the Olympic Flame.

"The Vancouver 2010 Olympic Torch Relay is the longest domestic relay in Olympic history," said Minister of State Lunn. "Through its journey, the Olympic Flame will be carried by 12,000 torchbearers through more than 1,000 communities across our country. I invite all Canadians to participate and embrace the Olympic spirit."

At the end of its journey, the flame will arrive in Vancouver on February 12, 2010 for the Opening Ceremony signalling the start of the 2010 Olympic Winter Games. The flame burns for the entire duration of the Games and is extinguished during the Closing Ceremony on February 28, 2010.

MP Mayes presented to the City of Vernon a commemorative plaque for welcoming the Olympic Flame in their community. The plaque symbolizes the legacy that will endure in communities long after the flame is extinguished.

For more information on our Government's support for the Vancouver 2010 Olympic Torch Relay or the 2010 Olympic and Paralympic Winter Games, visit www.Canada2010.gc.ca.